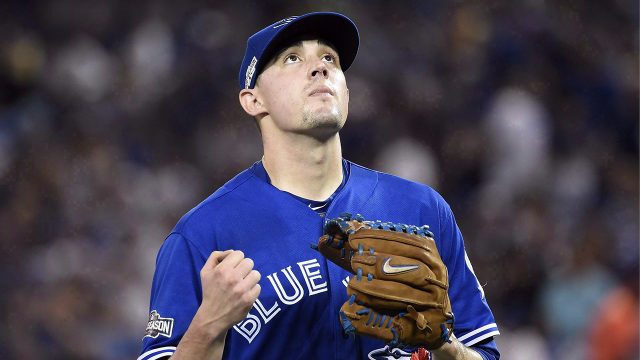 • Travis takes another step in recovery
• Donaldson still working on full return
• McGuire assigned to minor league camp
CLEARWATER, Fla — Devon Travis took another step forward in his recovery from a bone bruise and off-season surgery on his right knee Friday morning, running the bases on a backfield at the Blue Jays' Dunedin facility. He was scheduled to hit but not run the bases in a minor league game later on in the day, the third time this week he's been through that routine.
Josh Donaldson was scheduled to join him, also hitting without running the bases as he continues to work his way back from a strained right calf. The 2015 MVP is hoping to get into a big league spring training game this weekend.
Elsewhere on the injury front, Steve Pearce remains on track to make his debut at first base on Sunday in Bradenton versus the Pittsburgh Pirates. Pearce has only served as a designated hitter to this point in camp as he continues to complete a throwing program after undergoing elbow surgery in September.
"It's huge. He's chomping at the bit. He's ready to go," Blue Jays manager John Gibbons said. "They put him on a good program. I don't see any setbacks. I think once he [starts playing the field,] he'll probably just take off.
"Those things take time. You don't want to jump the gun on it and have a setback. But he hasn't had that. Once Sunday comes, I think he'll be good to go after that."
More from Sportsnet
Utilizing change-up will be key for Aaron Sanchez in 2017
Arden Zwelling
City councillor optimistic Blue Jays will stay in Dunedin
Emily Sadler
The Blue Jays are expecting Pearce to be …read more
Source:: Sportsnet.ca