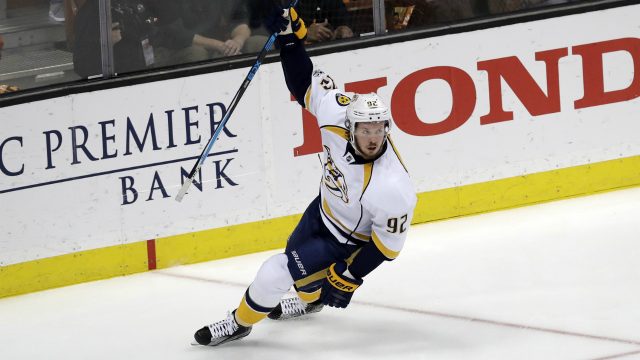 ANAHEIM — These are the National Hockey League playoffs, where a crippling blow can arrive at any moment — and to anybody. Just ask the Nashville Predators.
In a stunning development first reported by Sportsnet's Elliotte Friedman on Friday afternoon Nashville has lost first-line centre and leading playoff scorer Ryan Johansen for the remainder of the playoffs after he underwent surgery on his thigh Thursday evening in Nashville.
Johansen suffered what was thought to be a charley horse — or deep thigh bruise — midway through Game 4 of the Predators' Western Conference Final versus the Anaheim Ducks. Johansen played through the injury for the latter half of the game, but it worsened post-game, and Vanderbilt University doctors examining the Predators centre decided that immediate and season-ending surgery was necessary.
The Predators flew Friday morning to California for Saturday's crucial Game 5, the series knotted at two games apiece.
"During last night's game Ryan Johansen sustained a left thigh injury that required emergency surgery at Vanderbilt University Medical Center," the Predators said in a statement released on Twitter. "The surgery was successful, and the estimated recovery time is two to three months."
The Predators made no team personnel available for comment regarding Johansen's injury Friday.
After collecting four points in the opening two games of the west final, Johansen was held pointless in Games 3 and 4, though his ice time didn't diminish despite the injury. He played 27:28 in Thursday's overtime loss, and was on the ice for Filip Forsberg's dramatic game-tying goal with less than 36 seconds to play.
Corey Perry scored in overtime for Anaheim to even the series at 2-2.
Losing Johansen would be akin to the Ducks losing their captain, star centre Ryan Getzlaf. Johansen is on the first …read more
Source:: Sportsnet.ca