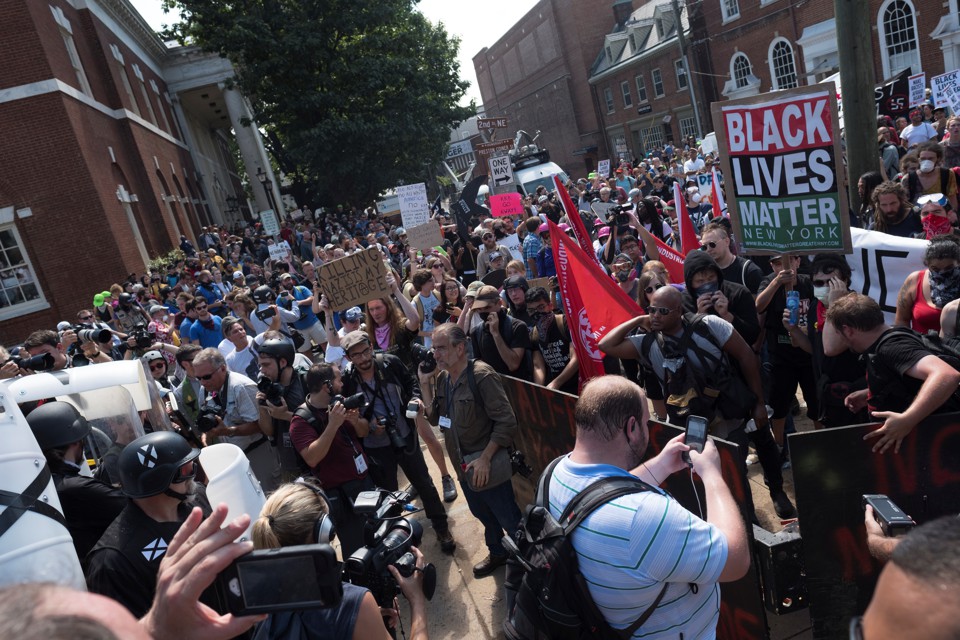 A car plowed through pedestrians on the streets of Charlottesville, Virginia amid protests Saturday. "Several pedestrians struck. Multiple injuries," state police said on Twitter.
The crowd had gathered to celebrate, an eyewitness told The Atlantic, because the white nationalists who'd gathered there had finally left.
Those protesting the Unite the Right rally were celebrating their perceived victory. The mood was jubilant. Then, screaming.
CPD & VSP respond to 3-vehicle crash at Water & 4th streets. Several pedestrians struck. Multiple injuries. 1/2 #cvilleaug12 pic.twitter.com/DdHYdL0Uvu
— VA State Police (@VSPPIO) August 12, 2017
In a follow-up tweet, state police urged people to avoid the area "to allow medics access to the crash scene," adding that "more info will be released when available."
A video of the incident circulated on social media. The footage appeared to show a car plunging through a crowd of protestors, though officials have not said whether they believe it was deliberate.
Virginia Governor Terry McAuliffe had already declared a state of emergency, after White nationalists and counter-protesters clashed on the streets of Charlottesville ahead of a "Unite the Right" rally. The University of Virginia instructed students to shelter in place, Larry Sabato, the director of the University of Virginia's Center for Politics, told The Atlantic in an email. President Trump responded to the unrest on Twitter, saying "We ALL must be united & condemn all that hate stands for. There is no place for this kind of violence in America. Lets come together as one!"
The incident quickly reignited a familiar debate. Often, in cases of domestic attacks, there are questions over what constitutes a terrorist attack. A vehicle hitting pedestrians, in particular, is reminiscent of attacks that have occurred in Europe.
But an attack that is understood to be terrorism, culturally, does not always meet the …read more
Source:: The Atlantic – Politics