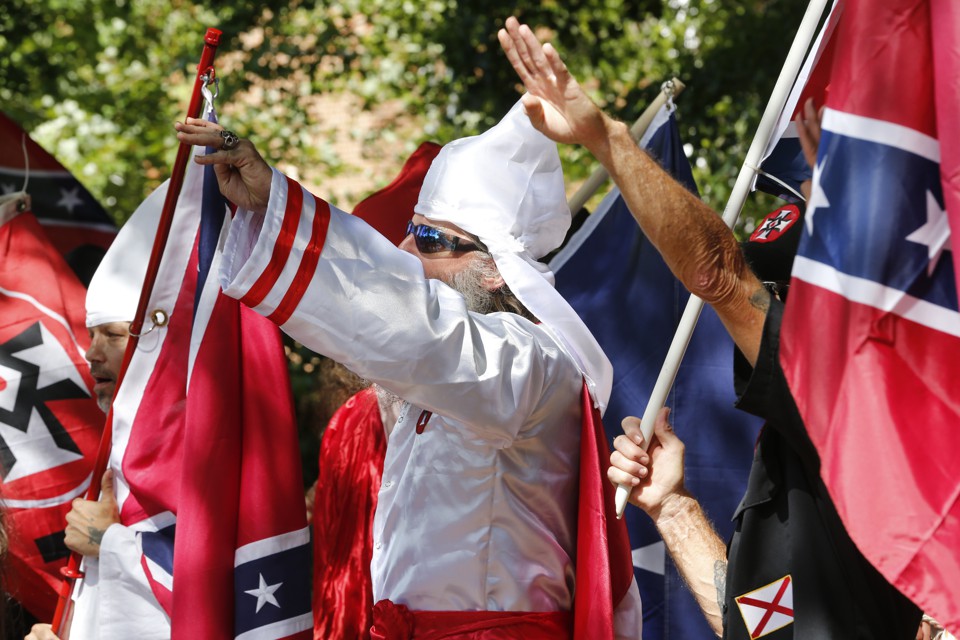 Suddenly, the "far right" doesn't seem so far. On Friday night, hundreds of protesters descended on a statue of Confederate hero Robert E. Lee in Emancipation Park in Charlottesville, Virginia. Carrying tiki torches, waving Confederate battle flags, and sometimes armed with clubs and shields and flanked by self-styled militiamen with heavier arms, the protesters, described by many as "white nationalists," brawled with counter-protesters in Charlottesville streets, a situation that led Virginia Governor Terry McAuliffe to declare a state of emergency Saturday.
Still, the fallout, the latest in a year-long series of growing protests centered around that statue in Emancipation Park, sprawled into Saturday afternoon. A car plowed through a group of counter-protesters, who'd taken the streets to celebrate their perceived victory against the white-supremacist protesters. So far, reports indicate at least one person has died, and many more are injured. Officials have not yet said if they think the incident was deliberate.
Even before that most deadly incident, politicians responded to the crisis in Charlottesville. House Speaker Paul Ryan said on Twitter that "the views fueling the spectacle in Charlottesville are repugnant," and Senate Majority Leader Mitch McConnell tweeted that "the hate and bigotry witnessed in Charlottesville does not reflect American values." In a statement Saturday morning, Virginia Governor Terry McAuliffe stated that he was "disgusted by the hatred, bigotry, and violence these protesters have brought to our state." President Donald Trump has tweeted multiple times about the protests, and in a statement after the deadly car incident condemned violence "on many sides."
These reactions, after a year of burgeoning demonstrations in the park, are remarkable both in their alarm and their vagueness.
Trump's statements call out "many sides" for their contribution to violence. McAuliffe's statement, especially, reads as if there's something alien or novel about violent white pro-Confederate protest …read more
Source:: The Atlantic – Politics