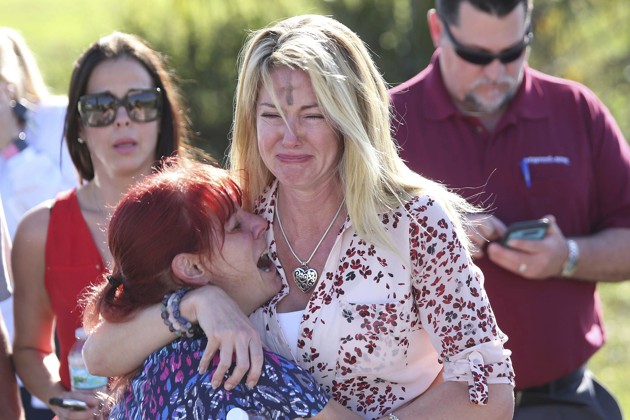 Today in 5 Lines
Broward County Superintendent Robert Runcie said there are "numerous fatalities" after a gunman opened fired at a high school in Parkland, Florida, adding "It is a horrible day for us." President Trump spoke with Florida Governor Rick Scott about the shooting and offered condolences to the families of the victims. Trump addressed former Staff Secretary Rob Porter's domestic-violence accusations, telling reporters he's "totally opposed to domestic violence of any kind." Republican Representative Trey Gowdy said his House Oversight Committee is investigating the White House's handling of Porter's employment. Senate moderates are expected to unveil a bipartisan proposal on immigration Wednesday evening.
Today on The Atlantic
Inside Peak: A network analysis of previous administrations shows that Donald Trump's inner circle of close advisors surprisingly resembles Bill Clinton's more than Richard Nixon's. (Niall Ferguson and Manny Rincon-Cruz)
'Deep Breaths and Calmer Second Thoughts': The incensed reaction to Attorney General Jeff Sessions's comments about Anglo-American legal heritage is "merely absurd" and threatens to inspire counter-radicalization. (David Frum)
Inching Toward the Senate Seat: North Dakota Representative Kevin Cramer received an offer from Oklahoma oil tycoon Harold Hamm to be his finance chair—the clearest sign yet that Cramer may launch a campaign to unseat Senator Heidi Heitkamp. (Elaina Plott)
Economy, Exhaustion, and Equilibrium: President Trump's poll numbers seem to be improving. Here are three reasons why. (David A. Graham)
Follow stories throughout the day with our Politics & Policy portal.
SnapshotParents wait for news after reports of a shooting at Marjory Stoneman Douglas High School in Parkland, Florida. Joel Auerbach / AP
What We're Reading
This Isn't Normal: Why is the American media constantly calling out President Trump for being unconventional when his presidency has been relatively normal? (Ben Shapiro, Townhall)
Flying First Class: Following reports that he flies …read more
Source:: <a href=https://www.theatlantic.com/politics/archive/2018/02/the-atlantic-politics-policy-daily-it-is-a-horrible-day-for-us/553391/?utm_source=feed target="_blank" title="The Atlantic Politics & Policy Daily: 'It Is a Horrible Day For Us'" >The Atlantic – Politics
(Visited 8 times, 1 visits today)