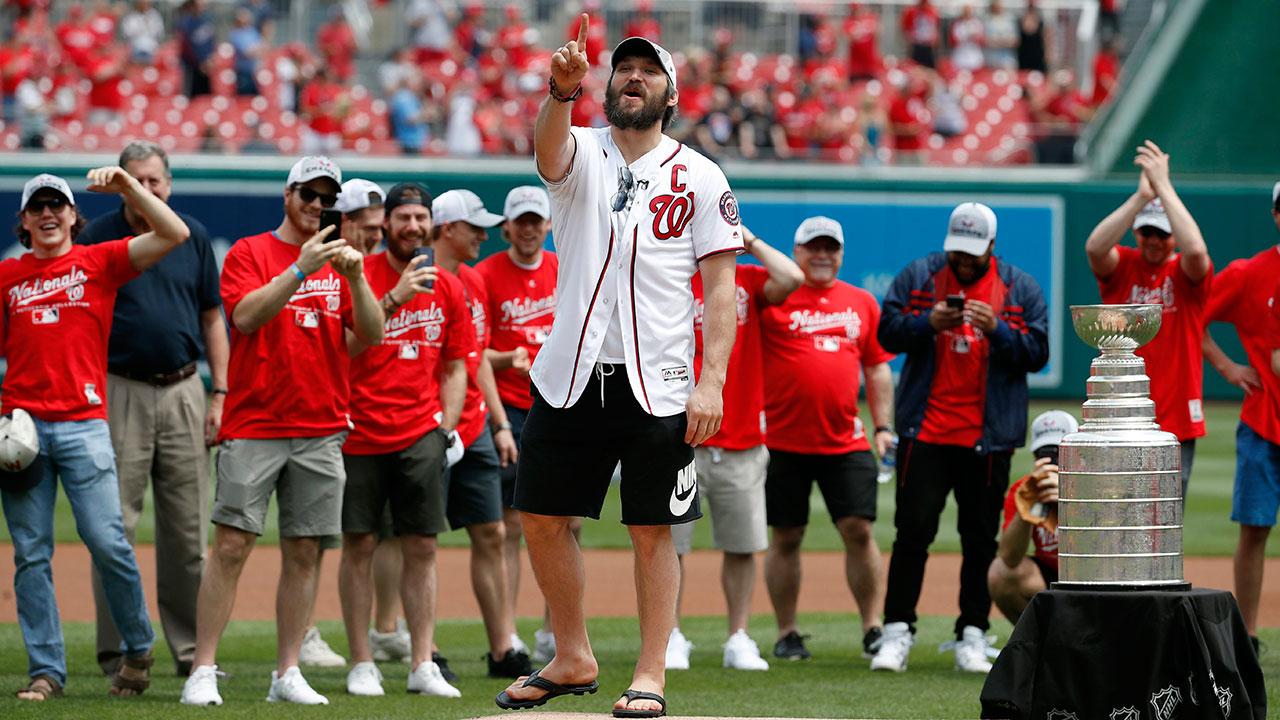 It took Alex Ovechkin 13 years to capture his first Stanley Cup and on Saturday it took the Washington Capitals captain two attempts to get his ceremonial first pitch just right.
Ovechkin and his teammates were welcomed to Nationals Park by the Washington Nationals and the Russian superstar was given the honour of getting the celebrations underway.
Ovie strolled out to the mound in flipflops and let one fly but Nationals ace Max Scherzer, fresh off his immaculate inning earlier this week, couldn't reach Ovechkin's high first attempt.
After the 2018 Conn Smythe winner was jeered by his teammates, Scherzer tossed back the ball to give him a second attempt that he made good on.
if ( "1" == true && 'undefined' !== typeof window.getIndexAds ) {
var so = {preroll:{1:{1:{siteID:191888},2:{siteID:191889}}}};
adServerUrl = window.getIndexAds( 'http://pubads.g.doubleclick.net/gampad/ads?sz=640×360&iu=%2F7326%2Fen.sportsnet.web%2FVideo&ciu_szs=300×250&impl=s&gdfp_req=1&env=vp&output=vast&unviewed_position_start=1&ad_rule=1&vid=5795656927001&cmsid=384', so, permalink);
} else {
adServerUrl = "http://pubads.g.doubleclick.net/gampad/ads?sz=640×360&iu=%2F7326%2Fen.sportsnet.web%2FVideo&ciu_szs=300×250&impl=s&gdfp_req=1&env=vp&output=vast&unviewed_position_start=1&ad_rule=1&vid=5795656927001&cmsid=384";
}
$el.after( unescape("%3Cscript src="" + (document.location.protocol == "https:" ? "https://sb" : "http://b") + ".scorecardresearch.com/beacon.js" %3E%3C/script%3E") );
$( document ).one( 'ready', function() {
$( "#video_container-899394" ).SNPlayer( {
bc_account_id: "1704050871",
bc_player_id: "rkedLxwfab",
…read more
Source:: Sportsnet.ca
(Visited 7 times, 1 visits today)