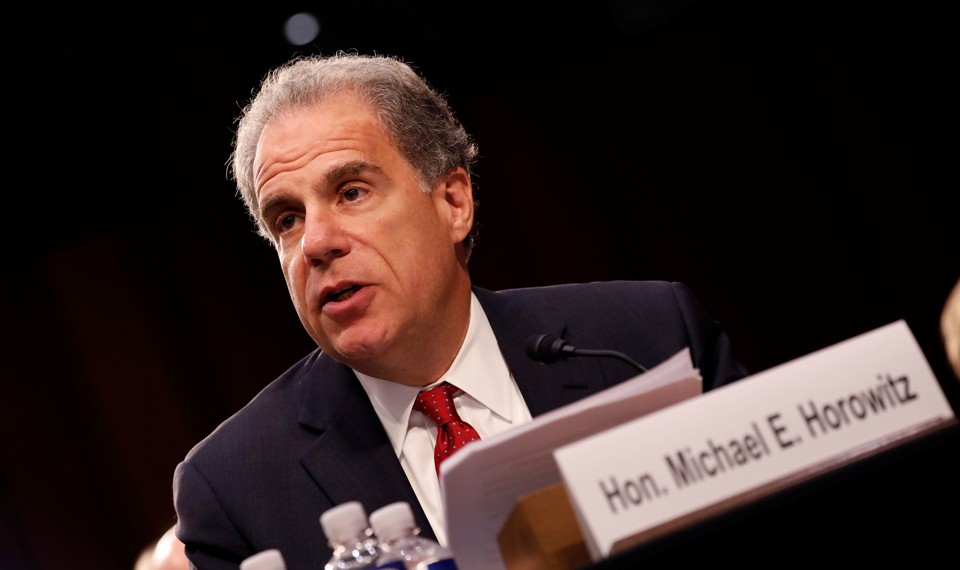 The Justice Department's Office of the Inspector General is rarely in the spotlight. But a highly anticipated report by the department's internal watchdog will finally be released this week, ending a nearly 18-month investigation into whether the FBI acted improperly in the run-up to the 2016 presidential election.
The inspector general, Michael Horowitz—commonly referred to as the DOJ's internal watchdog—announced in January 2017 that his office would examine allegations of misconduct surrounding former FBI Director James Comey's handling of the probe into Hillary Clinton's private email server. The news was welcomed by both Democrats—who felt that Comey had shattered Clinton's chances of winning the election by effectively reopening the email probe just days before the election—and by Republicans, who felt that Comey, after deciding not to charge Clinton with a crime, had let her off easy.
President Trump, who frequently attacks the FBI and DOJ for investigating his campaign team's ties to Russia, has also taken an interest in Horowitz's forthcoming report: "What is taking so long with the Inspector General's Report on Crooked Hillary and Slippery James Comey," Trump wrote in a tweet last week. "Numerous delays…Hope Report is not being changed and made weaker! There are so many horrible things to tell, the public has the right to know. Transparency!"
It is not clear where Trump got the idea that Horowitz, known as an even-handed professional among current and former Justice Department employees, would deliberately weaken the report. Horowitz served as a prosecutor in the office of the U.S. Attorney for the Southern District of New York, and in the Justice Department's criminal division, and was appointed to the inspector general's job in 2012 by former President Barack Obama.
"Horowitz is an extremely experienced and capable lawyer and former prosecutor," said David …read more
Source:: The Atlantic – Politics
(Visited 3 times, 1 visits today)