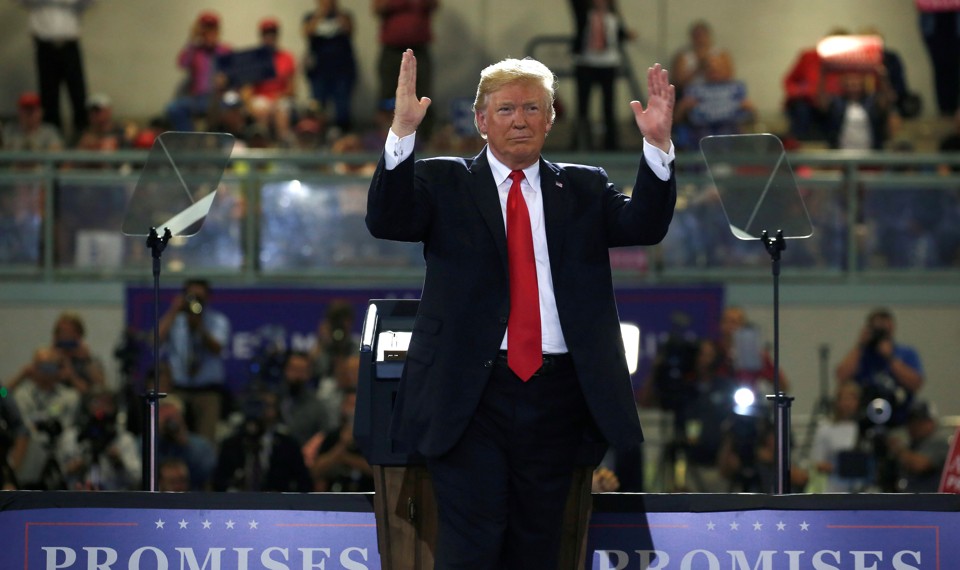 The old ways of handling U.S. alliances seem to be coming to an end. Donald Trump, fresh off the G7 summit among the world's preeminent industrialized nations—where what had seemed to be cracks in the relationships among allies were revealed to be chasms—will meet next week with fellow leaders of NATO members in Brussels. Don't expect happy family photographs.
In remarks Thursday in Great Falls, Montana, Trump previewed the message he'll take to the summit: "I'm gonna tell NATO: 'You gotta start paying your bills. The United States is not gonna take care of everything.'"
The message itself isn't new. Trump and his predecessors have repeatedly said that NATO countries need to spend more on defense. Where they differ, however, is that past American presidents have pushed the importance of NATO defense spending partly to strengthen the alliance against Russia, but have assured NATO of U.S. protection regardless. Trump, on the other hand, says he thinks Vladimir Putin is "fine." His insistence on higher NATO spending seems to come not from a desire to confront Russia, but from resentment that America is getting a raw deal. He has even appeared to make U.S. support for NATO conditional, saying Thursday that he couldn't "guarantee" U.S. protection of Germany.
It might be tempting to dismiss Trump's remarks as part of his style, a tone he employs when talking to his supporters. But this would overlook the fact that on just about every foreign-policy issue where Trump has expressed strong views—from trade to immigration to North Korea—he has, in one way or another, upended prior U.S. policy. So it will likely be with NATO—despite assurances from Trump's aides that all is well with the alliance.
"The overall theme of this summit is going to be NATO's strength and unity," Kay Bailey Hutchison, the U.S. ambassador to …read more
Source:: The Atlantic – Global
(Visited 2 times, 1 visits today)