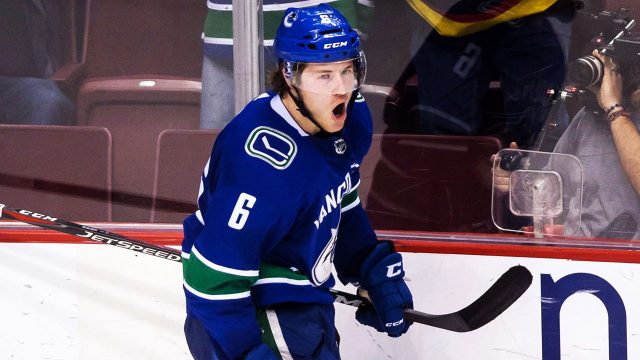 BURNABY, B.C. – Nine days after a sprained knee took him out of the Vancouver Canucks' lineup, outstanding rookie Elias Pettersson looked excellent Saturday on his return to the ice.
Unfortunately, the only guy skating with him was Canucks skills coach Glen Carnegie. Pettersson's teammates had all left the building after practising without him in Burnaby.
Stream Canucks hockey on Sportsnet NOW
Sportsnet NOW gives you access to over 500 NHL games this season, blackout-free, including Hockey Night in Canada, Rogers Hometown Hockey, Scotiabank Wednesday Night Hockey, the entire 2019 Stanley Cup Playoffs and more.
CHOOSE PLAN
Pettersson, who suffered a first-degree knee sprain when he was pulled to the ice by Montreal Canadiens' rookie Jesperi Kotkaniemi on Jan. 3, was able to twist and turn through drills during his 25-minute session with Carnegie, which followed a much shorter solo skate on Friday.
But Pettersson won't play Sunday against the Florida Panthers and still needs to get through at least one complete practice with teammates before being considered for Wednesday's lineup that will face the Edmonton Oilers.
"He wants to play," Canuck coach Travis Green said after Saturday's practice. "We want him to play, but we're not going to rush him back and have him play where he's at risk because he's not moving around well enough.
"We're going to do right by him, but we want him back as fast as he can. He's a competitive kid; he wants to play. He's not happy not playing."
Starting with the game Pettersson was hurt, the Canucks have lost three straight without their leading scorer.
[radioclip id=4414173]
Including a six-game injury in October when Pettersson was thrown to the ice by Florida defenceman Mike Matheson and suffered a concussion, the Canucks are 3-4-1 without the 20-year-old …read more
Source:: Sportsnet.ca
(Visited 1 times, 1 visits today)