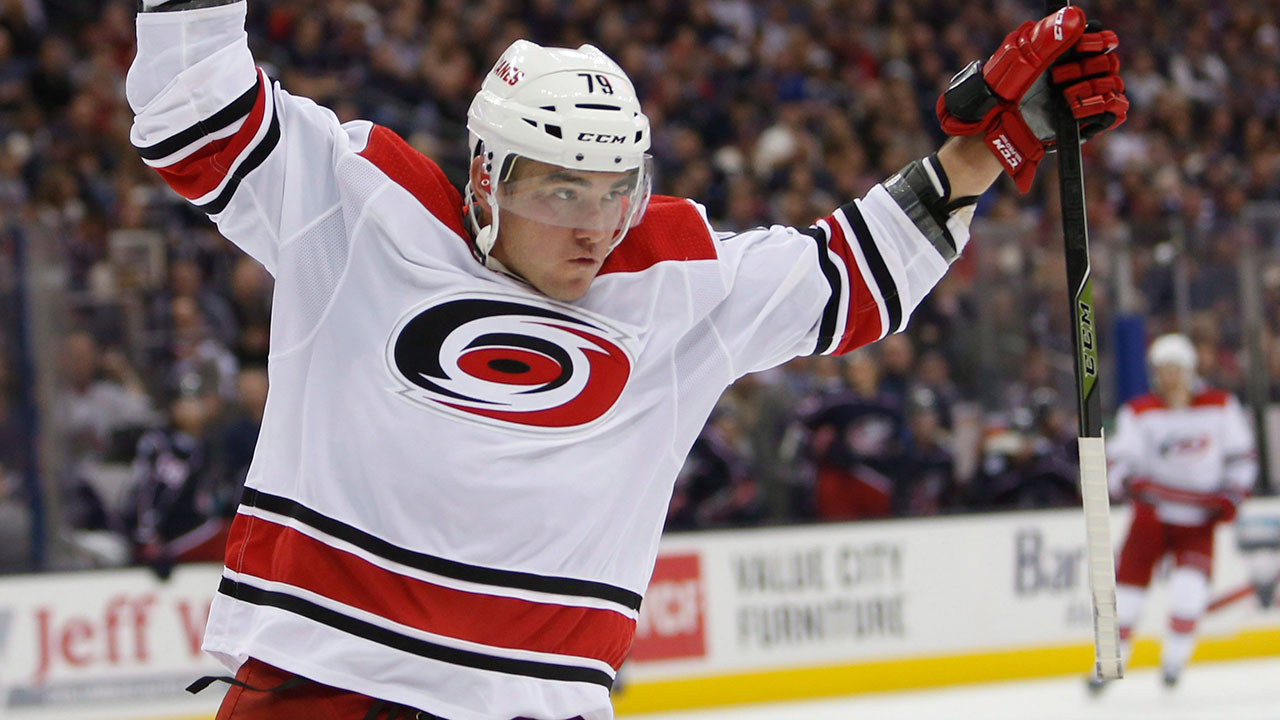 When the Washington Capitals locked up Tom Wilson to a six-year contract worth $5.17 million per season it certainly raised some eyebrows around the NHL. After all, it's not often a player that averages more than 160 penalty minutes per season receives a payday like that one, but Wilson proved his value during the 2018 Stanley Cup Playoffs with both his physicality and ability to chip in on the scoreboard.
Micheal Ferland doesn't have the same type of reputation as a pugilist that Wilson does, but the Carolina Hurricanes forward plays a similar brand of physical hockey and could be seeking a similar contract to Wilson's, according to Sportsnet's Nick Kypreos.
"The feeling is now that Ferland would be looking for Tom Wilson-type money," Kypreos reported Saturday during the Headlines segment of Hockey Night in Canada.
Ferland was acquired from the Calgary Flames along with Dougie Hamilton and Adam Fox in an off-season blockbuster trade for Noah Hanifin and Elias Lindholm. Ferland has adjusted well to his new city as he's in the midst of a career year with 13 goals and 10 assists in 37 games.
/*
if ( "1" == true && 'undefined' !== typeof window.getIndexAds ) {
var so = {preroll:{1:{1:{siteID:191888},2:{siteID:191889}}}};
adServerUrl = window.getIndexAds( 'http://pubads.g.doubleclick.net/gampad/ads?sz=640×360&cust_params=domain%3Dsportsnet.ca&iu=%2F7326%2Fen.sportsnet.web%2FVideo&ciu_szs=300×250&impl=s&gdfp_req=1&env=vp&output=vast&unviewed_position_start=1&ad_rule=1&vid=5852080977001&cmsid=384', so, permalink);
} else {
adServerUrl = "http://pubads.g.doubleclick.net/gampad/ads?sz=640×360&cust_params=domain%3Dsportsnet.ca&iu=%2F7326%2Fen.sportsnet.web%2FVideo&ciu_szs=300×250&impl=s&gdfp_req=1&env=vp&output=vast&unviewed_position_start=1&ad_rule=1&vid=5852080977001&cmsid=384";
}
…read more
Source:: Sportsnet.ca
(Visited 2 times, 1 visits today)