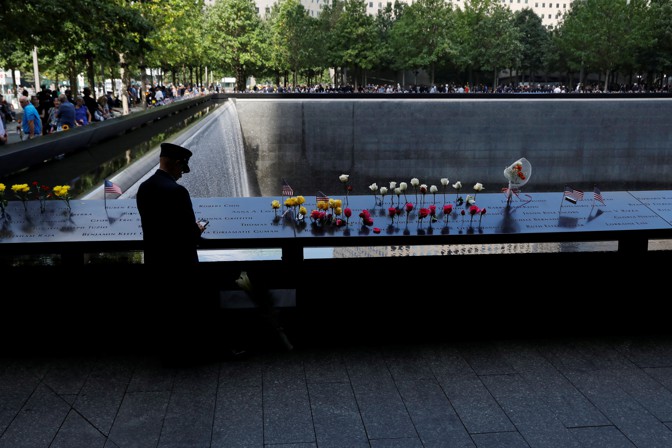 We're trying something new with The Atlantic's signature politics newsletter. Comments or questions? Send us an email anytime. Were you forwarded this email? Sign yourself up here.
We appreciate your continued support for our journalism.
Today in Politics
(Brendan McDermid / Reuters)
Eighteen years later, the 9/11 terrorist attacks can feel like a distant blur—and that's for those of us who remember
Donald Trump and Dan Bishop at a rally in Fayetteville, North Carolina, on September 10. (Chris Seward / AP)
The special election for North Carolina's Ninth Congressional District was finally resolved last night, with the Republican Dan Bishop besting the Democrat Dan McCready by roughly 4,000 votes.
The final margin of victory is likely to be close to 2 percent, well below President Trump's double-digit advantage in 2016, but ahead of the 2018 results. What changed?
→ Read David A. Graham's analysis of the unusual election, in which about $20 million was spent.
*
FEATURED READ
(John Cuneo)
Juanita Broaddrick doesn't believe all women. Amanda Fitzsimmons writes in her portrait of the woman who alleged Bill Clinton raped her in 1978:
Twitter augments the snarkier side of almost everyone's personality, but the gulf between Broaddrick's social-media persona and her actual one is especially wide. In the days after Broaddrick denigrated E. Jean Carroll, the woman who accused Trump of rape in her new book, tweeting that she looked like the Jeopardy host Alex Trebek, I called her to request an interview. To hear Broaddrick's genial, alto drawl was jarring, as was the contrast between the vitriolic @atensnut (Broaddrick is a huge tennis fan) and the woman who later greeted me with a bear hug when we met in the lobby of a Days Inn near her home. I'd mentioned on the phone that I'd forgotten my toothbrush, and, though it …read more
Source:: <a href=https://www.theatlantic.com/politics/archive/2019/09/9-11-war-afghanistan-politics-daily/597838/?utm_source=feed target="_blank" title="The Atlantic Politics Daily: For Those Too Young to Remember 9/11″ >The Atlantic – Politics
(Visited 1 times, 1 visits today)