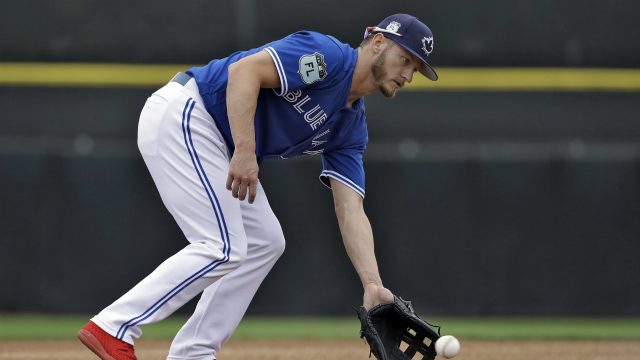 DUNEDIN, Fla. — Josh Donaldson continued creeping towards a return to the Blue Jays Sunday, taking an extra-long batting practice session, running, and completing fielding drills.
Donaldson took a big step forward Saturday, running the bases for the first time since he strained his right calf at the beginning of camp. And he took another on Sunday, performing a number of fielding exercises that tested his calf in game-like situations. Blue Jays trainers rolled balls towards Donaldson at third base, and watched as he charged them down, fielded them, and fired towards first base on the run.
That was a crucial test for Donaldson who makes the play frequently during games and needs his right calf to be strong in order to execute it. According to Blue Jays head trainer George Poulis, Donaldson reported no issues during the drills. He'll be evaluated in Dunedin Monday morning before the Blue Jays decide on his next step.
With practically every hurdle of his recovery cleared, it's not out of the question that Donaldson could get into a Grapefruit League game by Wednesday. The Blue Jays play in Dunedin on Monday, Sarasota on Tuesday, and Dunedin again on Wednesday. Thursday is an off-day.
If Donaldson feels good Monday morning, there's a strong possibility he could play in that afternoon's game. If he doesn't play then, it's unlikely the club would ask him to take the long trip south for Tuesday's big-league game, with at-bats on the minor-league side making more sense. If that doesn't happen, Wednesday's major-league game in Dunedin would become the target.
It all depends on how Donaldson's calf responds to Sunday's work. The 31-year-old logged a noticeably long batting practice session Sunday morning, launching plenty of balls over the outfield wall at Florida Auto Exchange Stadium. He also took several rounds batting …read more
Source:: Sportsnet.ca