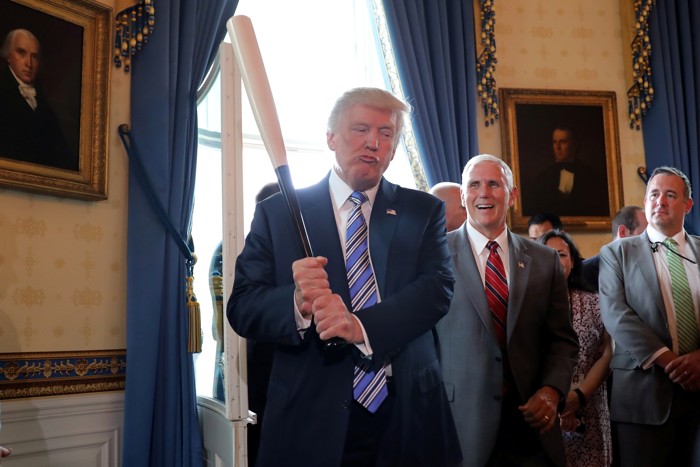 Today in 5 Lines
President Trump said Republicans are "pushing very hard" to repeal and replace Obamacare, adding that he hopes Senator John McCain, who recently underwent surgery to remove a blood clot, "gets better very soon." White House Press Secretary Sean Spicer said Trump will host a group of Republican senators at the White House Monday night to persuade them to support the new health-care bill. Trump climbed into a fire truck during a product-showcase event to mark the start of the White House's "Made in America" week. The Department of Homeland Security announced it will increase the number of H-2B visas by 15,000. Police in Las Vegas said they found a threatening note at Nevada Senator Dean Heller's office over the weekend, but determined that there was no break-in, as had initially been reported.
Today on The Atlantic
Distorting Democracy: Norm Ornstein argues that, by every standard in representative government, the Republican health-care bill should have been abandoned. So why hasn't it?
Do the Right Thing: Whether or not Donald Trump Jr., Jared Kushner, and Paul Manafort should have attended the June 2016 meeting with a Russian lawyer, they have set a benchmark for the administration's moral code. (John Dickerson)
Why Is Canada More Functional Than the U.S.?: According to Toronto-based writer Jonathan Kay, Canada, like other wealthy nations, is "more transactional: You pay your taxes, you get your government."
Follow stories throughout the day with our )
Source:: <a href=https://www.theatlantic.com/politics/archive/2017/07/the-atlantic-politics-policy-daily/533940/?utm_source=feed target="_blank" title="The Atlantic Politics & Policy Daily: The Truck Stops Here" >The Atlantic – Politics