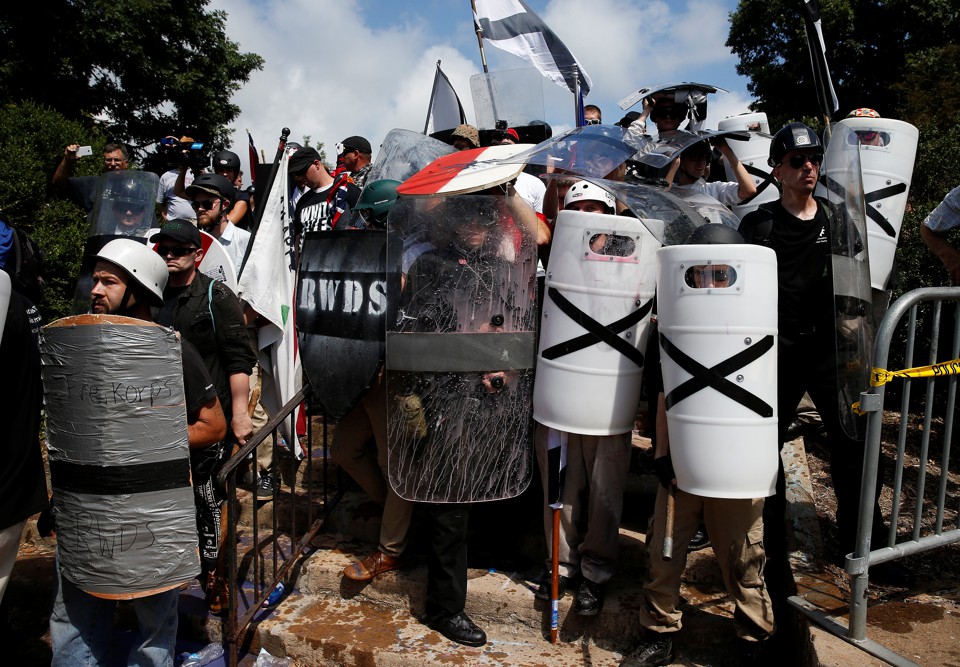 After a chaotic 24 hours in Charlottesville, Virginia, people on both sides of violent clashes are describing this as a pivotal moment for America's future.
White nationalists who gathered for the Unite the Right rally blame those who turned out to stop them. They're "damn communists," says Andrew Dodson, a 33-year-old inventor who calls himself a "racial realist" and says he is fighting to save white America.
I've talked to a lot of people like Dodson in the past year. In 2016, I produced a documentary on Richard Spencer, the white nationalist who has become an icon for the alt-right.
The movement was once an umbrella for many far-right, pro-Trump groups. But once Spencer and others began speaking publicly about their beliefs of white supremacy—a turning point was at a conference I filmed, in November, when attendees broke out in Nazi salutes—many previously in Spencer's camp began to distance themselves from the movement.
Today, the alt-right is unabashedly white nationalist, and unafraid to share their views. Richard Spencer fantasizes about a white ethno-state—a vision he told me would be like "the Roman empire." Many in the movement go even farther, calling for mass deportation and ethnic cleansing for Jews and people of color. Though the alt-right is well versed in the language and humor of the internet — communicating in forums like 8chan and Gab— their politics are consistent with previous white supremacist groups.
Charlottesville is now the epicenter of the struggle for white America, Dodson told me. And just because Saturday's violence seemed to have been contained, the alt-right will continue to "give them hell" in the city.
Dodson seemed annoyed, more than anything, at the news that a car had rammed into a crowd of counter-protesters, killing one of them. According to Dodson, the incident gave the police justification to shut …read more
Source:: The Atlantic – Politics