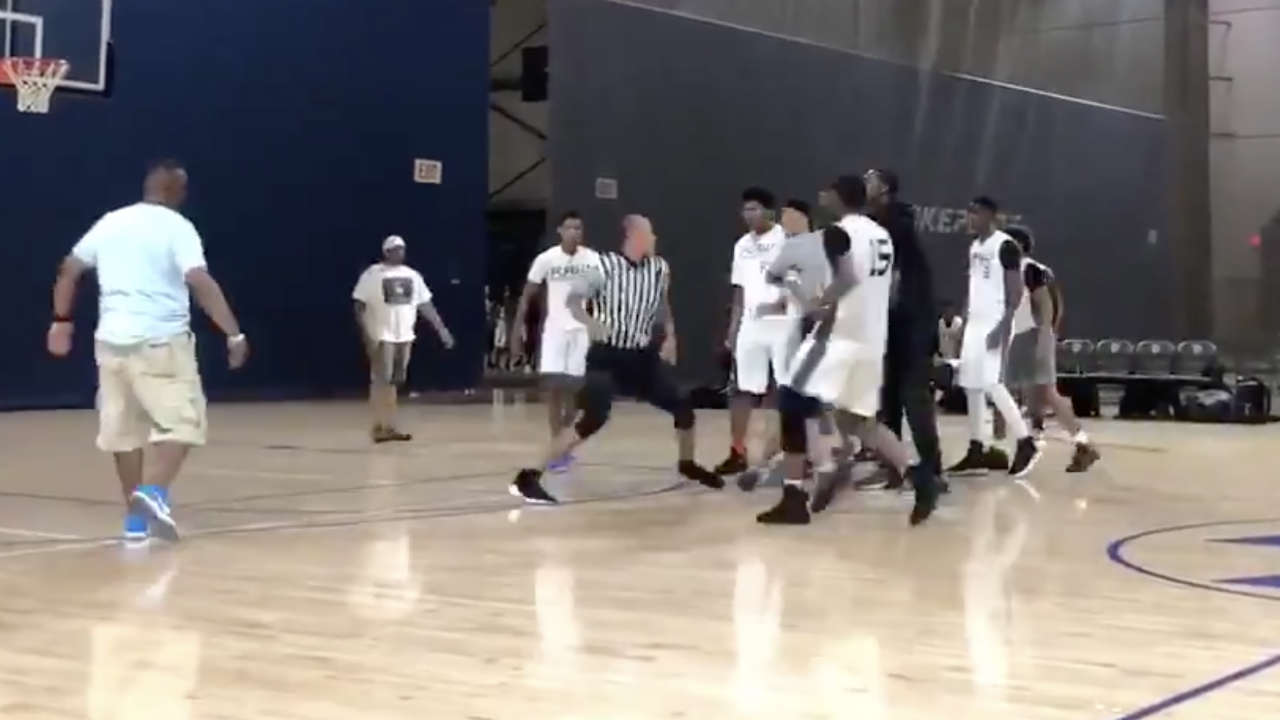 An AAU basketball game in Georgia devolved into chaotic violence Sunday when Chicago-based R.A.W. Athletics got into a brawl with the game officials while their opponent, the Houston Raptors, watched on from the sidelines.
A pair of videos that have been circulating on Twitter since the incident show the R.A.W. Athletics surrounding a referee who had just fallen to the ground and getting a few shots in, before letting him back up, followed up by the official himself, along with his colleagues, exchanging words with the team and charging it, beginning a huge melee.
Clip I received…team actually jumps the refs! Can't make this up…see for yourself! @aau_bingo pic.twitter.com/UH9oSsiUFQ
— Doug Jones (@djones8301) July 8, 2018
Here is another clip I received! Unbelievable!!!! @aau_bingo pic.twitter.com/tNxcaBsYNE
— Doug Jones (@djones8301) July 8, 2018
It's an ugly scene for sure, and absolutely inappropriate, but it's also important to remember that the main culprits involved were just a group of teenagers who, from their point of view, were merely trying to protect themselves.
Meanwhile, the adults in the room, who weren't being attacked, appeared to be either just filming the carnage or were content to stay on the sidelines watching the whole confrontation play out.
Even worse, as ESPN's Myron Medcalf reported, it appears the coaches of both teams, Howard Martin and Bobby Benjamin, just opted to play a game of "he said, she said" instead of taking any sort of responsibility.
"At the end of the game, one of my players was complaining about a call," Martin told ESPN. "He made a comment to the referee. The ref didn't like it. So the other team inbounded the ball, walked it up, the ref said to my player, 'Say it again.' Then he T'd him up and kicked him …read more
Source:: Sportsnet.ca
(Visited 2 times, 1 visits today)