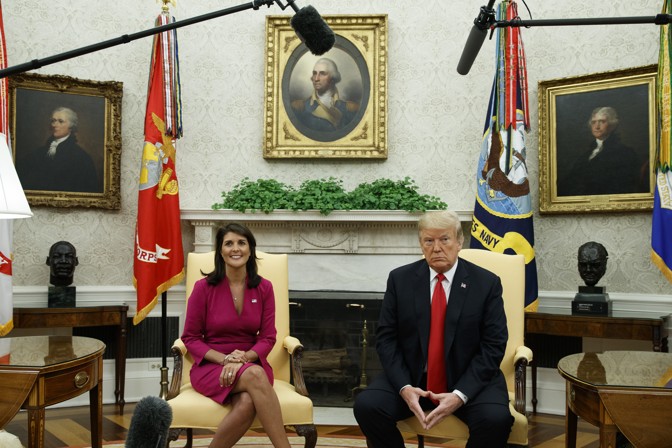 Elaine Godfrey (@elainejgodfrey), Madeleine Carlisle (@maddiecarlisle2), Olivia Paschal (@oliviacpaschal)
Today in 5 Lines
Nikki Haley, the U.S. ambassador to the United Nations, resigned, effective at the end of the year. In a joint appearance with Haley, President Donald Trump said that he would announce her successor "within the next two to three weeks." Read a transcript of their remarks here.
Hurricane Michael is expected to make landfall on the Florida Gulf Coast Thursday as a Category 3 storm, according to the National Weather Service.
Trump will hold a rally in Iowa, where he is slated to announce a new pro-ethanol policy that Republicans hope will curry favor with farmers. The rally begins at 6:30 p.m. CT.
Brett Kavanaugh heard his first cases as associate justice of the Supreme Court, including Stokeling v. United States, which addresses the definition of a violent felony, and United States v. Stitt, which debates what qualifies as a burglary.
Today is the last day to register to vote in 18 states, including Arizona, Arkansas, Florida, Georgia, Hawaii, Illinois, Indiana, Kentucky, Louisiana, Michigan, Nevada (by mail), New Mexico, Ohio, Pennsylvania, Tennessee, Texas, and Utah (by mail).
Today on The Atlantic
A Shocker: UN Ambassador Nikki Haley's departure came as a surprise to most of Washington. Why did she decide to go? (Uri Friedman)
Kavanaugh's Choice: The new Supreme Court justice has two options: Be an "ideological agent," or surprise people. (Adam Cohen)
GOP Divided: In Kansas, moderate Republicans are struggling over whether to support the party's polarizing gubernatorial nominee, Kris Kobach. (Russell Berman)
What Sarah Knew: A decade after the 2008 election, it's clear that Sarah Palin wasn't just a divisive vice-presidential candidate, write Katie Couric and Brian Goldsmith, "she was a harbinger of things to come."
SnapshotPresident Trump meets …read more
Source:: <a href=https://www.theatlantic.com/politics/archive/2018/10/the-atlantic-politics-policy-daily-haleys-comment/572551/?utm_source=feed target="_blank" title="The Atlantic Politics & Policy Daily: Haley's Comment" >The Atlantic – Politics
(Visited 1 times, 1 visits today)