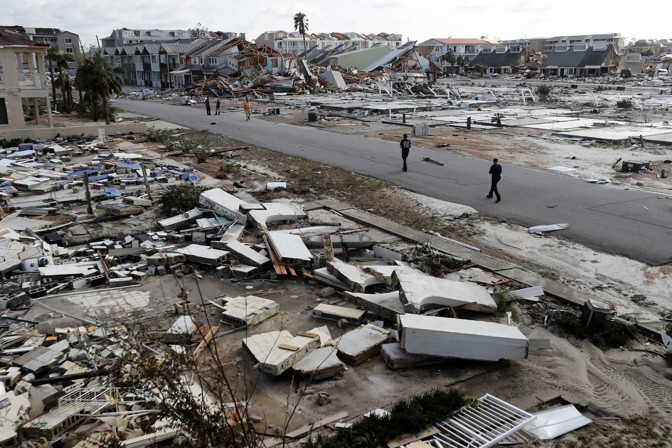 Written by Madeleine Carlisle (@maddiecarlisle2) and Olivia Paschal (@oliviacpaschal)
Today in 5 Lines
At least five people were killed as a result of Hurricane Michael, officials said. Virginia Governor Ralph Northam declared a state of emergency in anticipation of the storm, which has weakened to a tropical storm.
In an impromptu monologue in the Oval Office, rapper Kanye West, who was invited to meet with President Donald Trump, said that the president "is on his hero's journey right now." Trump complimented West, adding that he "could very well be" a future presidential candidate.
The Washington state Supreme Court ruled the state's death penalty unconstitutional, saying that it "is invalid because it is imposed in an arbitrary and racially biased manner."
Facebook removed more than 800 accounts that were spamming users with politically-oriented content that violated the company's policies.
Casino mogul Sheldon Adelson reportedly donated tens of millions of dollars to two super PACs in hopes of helping Republicans maintain their majority in the House of Representatives.
Today on The Atlantic
Their Religion Is Politics: A new poll by The Atlantic and the Public Religion Research Institute found that religiously unaffiliated voters seem most excited about supporting causes, and going to rallies, among other activities. (Emma Green)
'The Structural Barriers Have Never Been Higher': Black civic engagement has dropped off substantially in the last year, according to a new poll by The Atlantic and the Public Religion Research Institute. What happened? (Vann R. Newkirk II)
A District Divided: Washington's Eighth Congressional District encompasses rural and urban, conservative and liberal parts of the state. That's made for one very distinctive House race. (Ronald Brownstein)
Policing Big Tech: Virginia Senator Mark Warner is determined to police big tech companies, even if the rest of Congress isn't. (Franklin Foer)
Tuition-Free in the Age …read more
Source:: <a href=https://www.theatlantic.com/politics/archive/2018/10/the-atlantic-politics-policy-daily-kanye-guest/572767/?utm_source=feed target="_blank" title="The Atlantic Politics & Policy Daily: Kanye Guest" >The Atlantic – Politics
(Visited 2 times, 1 visits today)