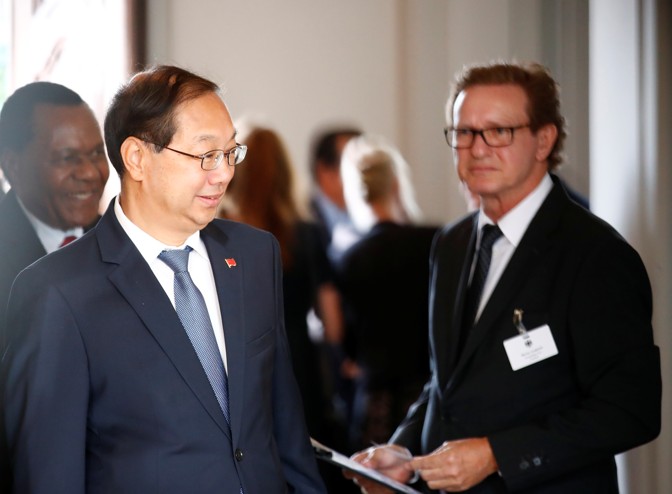 In centuries past, Prussian, Napoleonic, Nazi, and Allied soldiers all tramped the Strasse des 17. Juni, an east–west boulevard traversing Berlin's leafy Tiergarten park, over which soars a winged, golden statue of the Roman goddess Victoria.
More recently, in the auditorium of the Technische Universität Berlin, which lies along the thoroughfare, a thousand patriotic voices swelled in song for a different rising power: China.
"Though I live in a foreign country, I cannot change my Chinese heart," the mostly doctoral-level science students chorused to images of the Great Wall rolling onstage in a karaoke version of "My Chinese Heart," a Chinese Communist Party–approved classic. "My ancestors long ago branded 'China' on everything in me!" they sang.
The Lunar New Year gala, in late January, was a glitzy, occasionally ear-splitting affair organized by half a dozen Chinese student associations at top universities in Berlin and Brandenburg state, which encircles it. On the program: Dance, music, kung fu, jokes about the German weather (too gray and wet), prizes (Huawei electronics and bottles of baijiu, a strong Chinese liquor)—and a message from Shi Mingde, the outgoing Chinese ambassador to Germany.
Shi Mingde (Axel Schmidt / Reuters)
"I hope you will not disappoint the ardent expectations of Secretary-General Xi Jinping and our motherland," Shi said. "Turn patriotic feelings into patriotic deeds … tightly tie your own ideals to the destiny of the motherland!" And in an account of the evening published by the Chinese embassy in Berlin, he continued: "Bring science and technology back home, to push forward China's economic and social development!"
[Read: China has been running global influence campaigns for years]
On the face of it, the event was unremarkable, a party to usher in the Year of the Pig. Yet it had deeper meaning: In …read more
Source:: The Atlantic – Global
(Visited 8 times, 1 visits today)