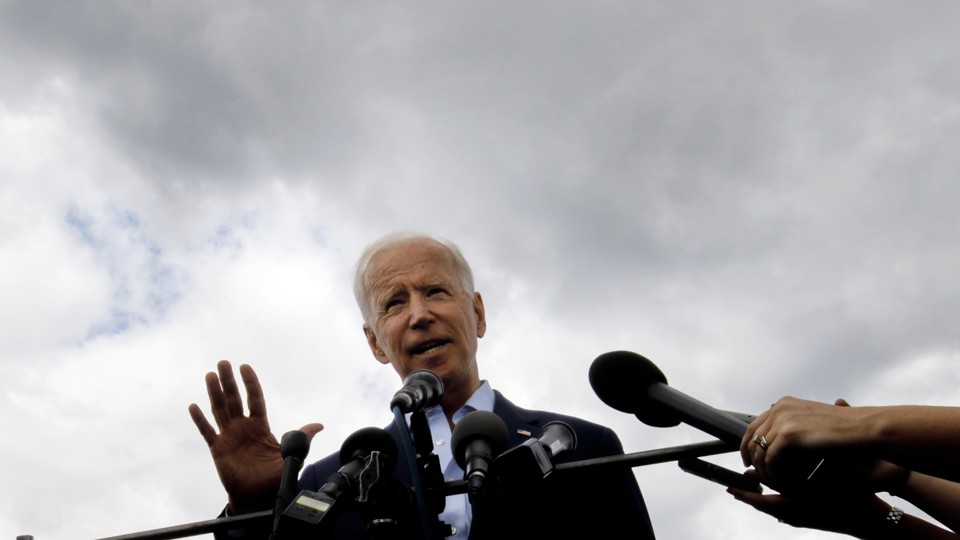 Like so much else in American politics these days, Joe Biden's current standing in the Democratic primary race has a lot to do with Donald Trump.
Biden has Trump to thank for terrifying Democratic voters and making so many of them care about "electability"—a word that was once too wonky even for insider political shows. The former vice president has Trump to thank for making his political liabilities seem small in comparison to the president's. Biden supporters, and even occasionally his campaign aides, fall back on this argument in defense: It's not as bad as Trump. On the trail, Biden often misspeaks and gets facts wrong, but Trump's lies as president are almost without precedent. And while a number of women have stepped forward to say Biden's touching or invasion of personal space made them feel uncomfortable, two dozen women have accused Trump of sexual assault, and in the spring, the writer E. Jean Carroll accused him of thrusting himself on her in a Bergdorf Goodman dressing room.
Last election, Trump led nearly every poll before he clinched the nomination, and hardly anyone believed he'd actually end up as the Republican Party candidate. Attacks from all sides bounced off him. Like Trump in the fall of 2015, a huge field of primary contenders are waiting for Biden to collapse.
As 10 candidates head to Houston for the party's third primary debate on Thursday night, aides on multiple other campaigns tell me they haven't anticipated Biden's resiliency, and many admit they don't know quite what to do about it. They never counted on it being so hard for the race to move away from a 76-year-old who's lost two other presidential campaigns, with a long record full of potential hazards and a history of putting his foot in his mouth.
But many …read more
Source:: The Atlantic – Politics
(Visited 1 times, 1 visits today)