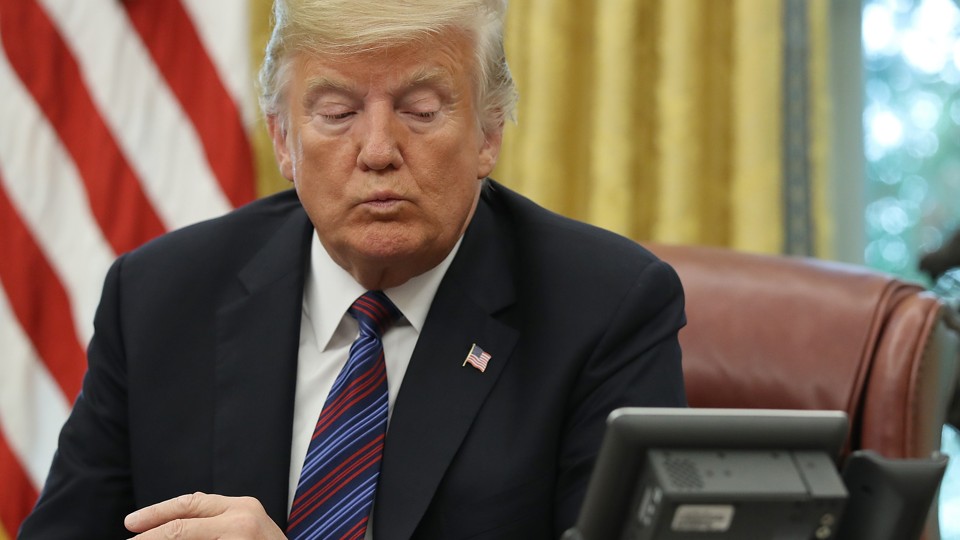 Part of what has distinguished the House's impeachment drive against President Donald Trump is that its inquiry was not principally about a cover-up.
Unlike the scandals that prompted the previous two impeachments, the Ukraine affair was no "third-rate burglary," nor was it an extramarital assignation in the Oval Office. The underlying accusation of wrongdoing against Trump—that he held up hundreds of millions of dollars in lethal aid to a U.S. ally in a scheme to aid his reelection campaign—is of a different nature entirely.
Yet in the 300-page impeachment report released this afternoon, Democrats on the House Intelligence Committee made clear that even here, Trump's attempted cover-up of his alleged quid pro quo was just as bad as the earlier transgression. In detailing Trump's flat-out refusal to comply with their investigation, Democrats effectively accuse him of the worst case of presidential obstruction of Congress in the history of the country.
"Donald Trump is the first president in the history of the United States to seek to completely obstruct an impeachment inquiry undertaken by the House of Representatives under Article I of the Constitution, which vests the House with the 'sole power of impeachment,'" the report states. "He has publicly and repeatedly rejected the authority of Congress to conduct oversight of his actions and has directly challenged the authority of the House to conduct an impeachment inquiry into his actions regarding Ukraine."
"No other president," it concludes, "has flouted the Constitution and power of Congress to conduct oversight to this extent." In singling out Trump's defiance, Democrats compare him unfavorably to Nixon, who despite infamously refusing to hand over tapes from the White House's secret recording system, instructed his staff to cooperate voluntarily with the impeachment inquiry that ultimately led to his resignation.
The Democrats' focus on obstruction is neither new nor surprising. Immediately after …read more
Source:: <a href=https://www.theatlantic.com/politics/archive/2019/12/impeachment-report-trump-obstruct/602938/?utm_source=feed target="_blank" title="The Phrase Trump Can't Escape: Cover-Up" >The Atlantic – Politics
(Visited 1 times, 1 visits today)