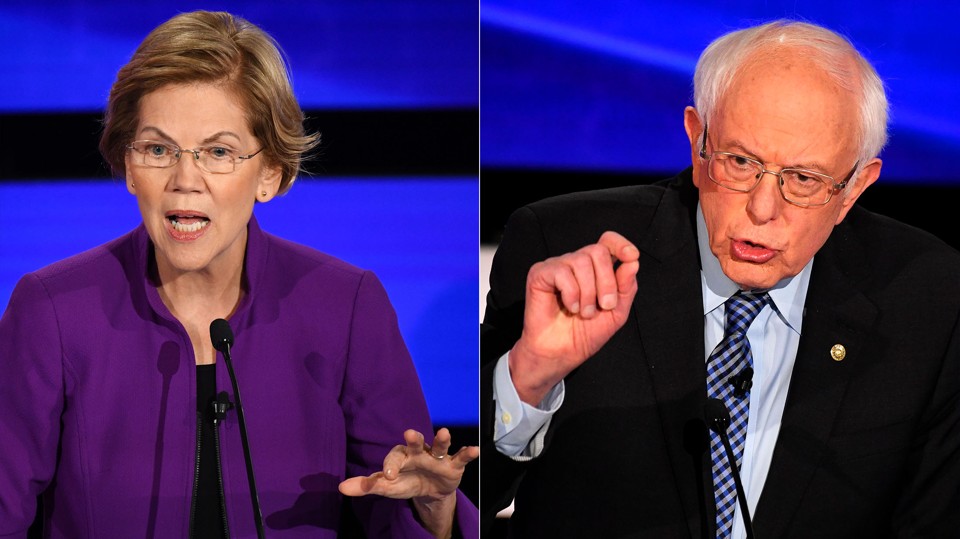 Throughout her campaign, Senator Elizabeth Warren has largely sidestepped the question of sexism. It's a lose-lose situation: Women candidates don't want to seem whiny, but they also don't want to look weak if they're insulted or discriminated against because of their gender.
When CNN reported on Monday that Bernie Sanders told her in 2018 that a woman could not be elected president, Warren seemed trapped. She could call out Sanders for sexism and risk seeming shrill or petty. Or she could let the story pass without making anything of it. On the debate stage in Iowa Tuesday night, Warren chose a third path: She argued that being a woman is not a liability for political candidates. It's a strength.
To make her case, Warren pointed to hard evidence, invoking the records of her competitors in the Democratic primary race. "Look at the men on this stage," Warren said. "Collectively, they have lost 10 elections. The only people on this stage who have won every single election that they've been in are the women: Amy [Klobuchar] and me." And she's more than prepared to take on President Donald Trump as a woman, she added: "The only person on this stage who has beaten an incumbent Republican anytime in the past 30 years is me."
Perhaps the strongest piece of evidence for her argument is the 2018 midterm elections, when women won a record number of seats in Congress, beat out male opponents in key swing states including Florida and Pennsylvania, and earned greater representation in the U.S. Senate and governors' mansions across the country. The Democratic Party's recent successes, she said, are owed to women candidates and women voters.
Warren's answer was met with loud cheers from the debate audience at Drake University. But her strategy is more significant than any one …read more
Source:: The Atlantic – Politics
(Visited 1 times, 1 visits today)