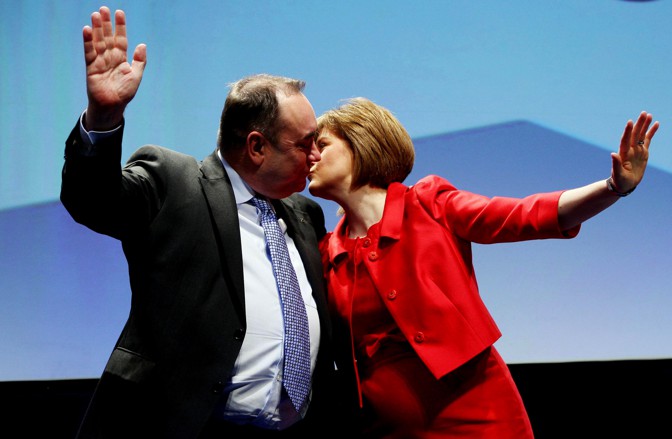 Ask people for adjectives to describe Nicola Sturgeon and the same few words tend to crop up: poised, perfectionist, regal. Sturgeon has been Scotland's first minister for six and a half years, leading its devolved government, and she utterly dominates its political scene. Her approval ratings are majestic, despite her government's patchy record on health and education—the highest drug-death rate in Europe, falling literacy standards, and an inability to achieve her "defining mission" of closing the attainment gap between rich and poor pupils. Her personal style is iconic: sharply tailored dresses and jackets, towering heels, and a tartan face mask. And her control over the Scottish National Party—whose central political demand is for Scottish independence—is extraordinary. Her husband is the SNP's chief executive. Potential challengers to her crown have been picked off with sharpshooter precision.
Sturgeon's path to the history books is clear, although conditional. If she can win a majority of seats in the Scottish elections tomorrow, and if she can use that victory to demand another independence referendum, and if she wins that referendum—then she would become the first leader of an independent Scotland in three centuries.
Another adjective often attached to Sturgeon is feminist. When the Conservative prime minister Theresa May visited Scotland in 2016, Sturgeon tweeted a photograph of the two women shaking hands, with the words "Politics aside—I hope girls everywhere look at this photograph and believe nothing should be off limits for them." The majority of Sturgeon's cabinet is female, as is her chief of staff. She is adored by a generation of young female activists: the SNP store once sold Eat, Sleep, Nicola, Repeat T-shirts.
All the more striking, then, to realize that feminist issues are what have recently thrown this most polished of leaders off balance. The first …read more
Source:: The Atlantic – Global
(Visited 1 times, 1 visits today)