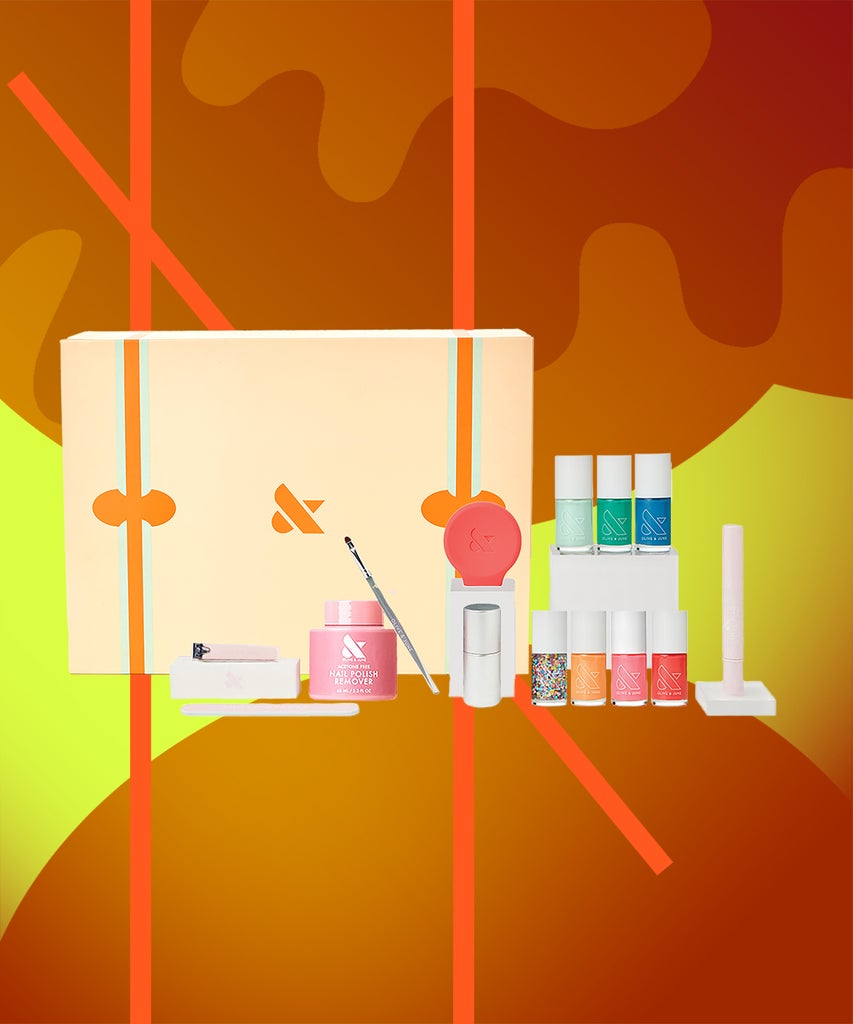 Pack your bags and bring your bug spray — Camp Olive & June is in session. `"We were inspired by the endless fun of summer camp," Olive & June founder and CEO Sarah Gibson Tuttle tells Refinery29. "The palette is bright and bold with a bit of a retro, '70s vibe." While summer almost always means feel-happy color on lids, lips, or cheeks, the Los Angeles-based nail brand is making a strong case for anchoring your summer beauty look around your mani.
In addition to seven new shades of polish (including one rainbow confetti topper that's seriously incredible), Olive & June is also unveiling three new press-on nail designs plus three solid press-ons in polish shades from the collection. Ahead, grab some peanut butter and Oreos as we take a deep dive into summer mani magic.
DashDividers_1_500x100
Blue Canoe, $9
"This medium blue is like a well-loved pair of jeans and is the ultimate summer staple," says Gibson Tuttle of this denim hue.
Green Canteen, $9
"A teal green hue that's ready to join all the activities," Gibson Tuttle says of this verdant shade — which I personally will be applying immediately. "When the team came up with this name, we all laughed out loud. An instant yes." 
Field Day, $9
It's a little red, a little pink, and a lot perfect for rooftop season. "This juicy watermelon shade is my kind of summer red, perfect for sunny afternoons in the grass," muses Gibson Tuttle.
Pen Pal, $9
When in doubt, think pink. "A bright pop of bubblegum pink is always a mani and pedi must for summer," says Gibson Tuttle.
Counselor In Training, $9
We're calling it now: Creamsicle energy will be big in the warmer months. "My camp CITs were the coolest people I knew," says Gibson Tuttle of this light …read more
Source:: Refinery29
(Visited 1 times, 1 visits today)