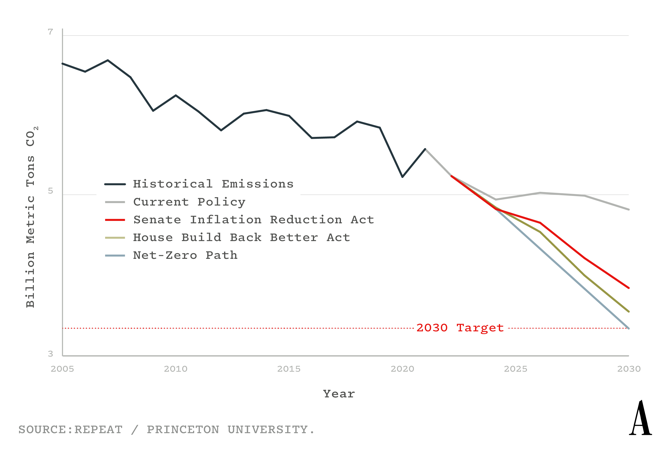 First we got the bill. Now we have the numbers.
The Inflation Reduction Act, the surprise deal that Senator Joe Manchin and Senate Majority Leader Chuck Schumer struck last week, would significantly reduce greenhouse-gas pollution from the American economy. If passed, the bill would cut annual emissions by as much as 44 percent by the end of this decade, according to a new set of analyses from three independent research firms.
That would make the Inflation Reduction Act, or IRA, the most significant climate bill ever passed by Congress. No law has ever made such a big dent in U.S. emissions, or cut them as rapidly: It would more than double the pace at which the American economy has been decarbonizing, the analyses say.
"I was skeptical of it when we started doing the modeling," Anand Gopal, the executive director of strategy at Energy Innovation, a nonpartisan policy group in San Francisco that prepared one of the studies, told me. "But now I'm convinced that this is a really meaningful action by the United States on climate in this decade."
Two-Thirds of the Way to Paris
The Inflation Reduction Act would cut emissions 41 percent by 2030, compared to their all-time high, according to a new analysis from Princeton researchers. That would get the country two-thirds of the way to meeting its current commitment under the Paris Agreement.
The three new estimates were conducted by Energy Innovation; Rhodium Group, an energy-research firm in New York; and the REPEAT Project, a university-associated team led by Jesse Jenkins, a Princeton engineering professor. The studies represent a new spin on an old approach. Normally, when Congress considers a major piece of legislation, outside economists pore over its details, feeding them into computer models to estimate how each provision might affect GDP, inflation, and the federal …read more
Source:: The Atlantic – Science
(Visited 2 times, 1 visits today)